By Samantha Retamar, Communications Coordinator
NOTEWORTHY: Philabundance in the News – October 2018
For many folks across the Delaware Valley, October is a time to pull out their fall clothing, turn on the heat and enjoy the change in season. Sadly, for more than 700,000 people in our area, October is the beginning of "heat or eat" season, with many Philabundance clients having to choose between heating their homes and feeding their families.
Raising awareness of the hunger crisis in our communities is imperative to help our neighbors in need get the help that they need. The following press coverage played a key role in shedding a light on food insecurity and highlighting the efforts of Philabundance's allies in the fight against hunger:
1.  Giant Food Stores Donate $1 million to Philabundance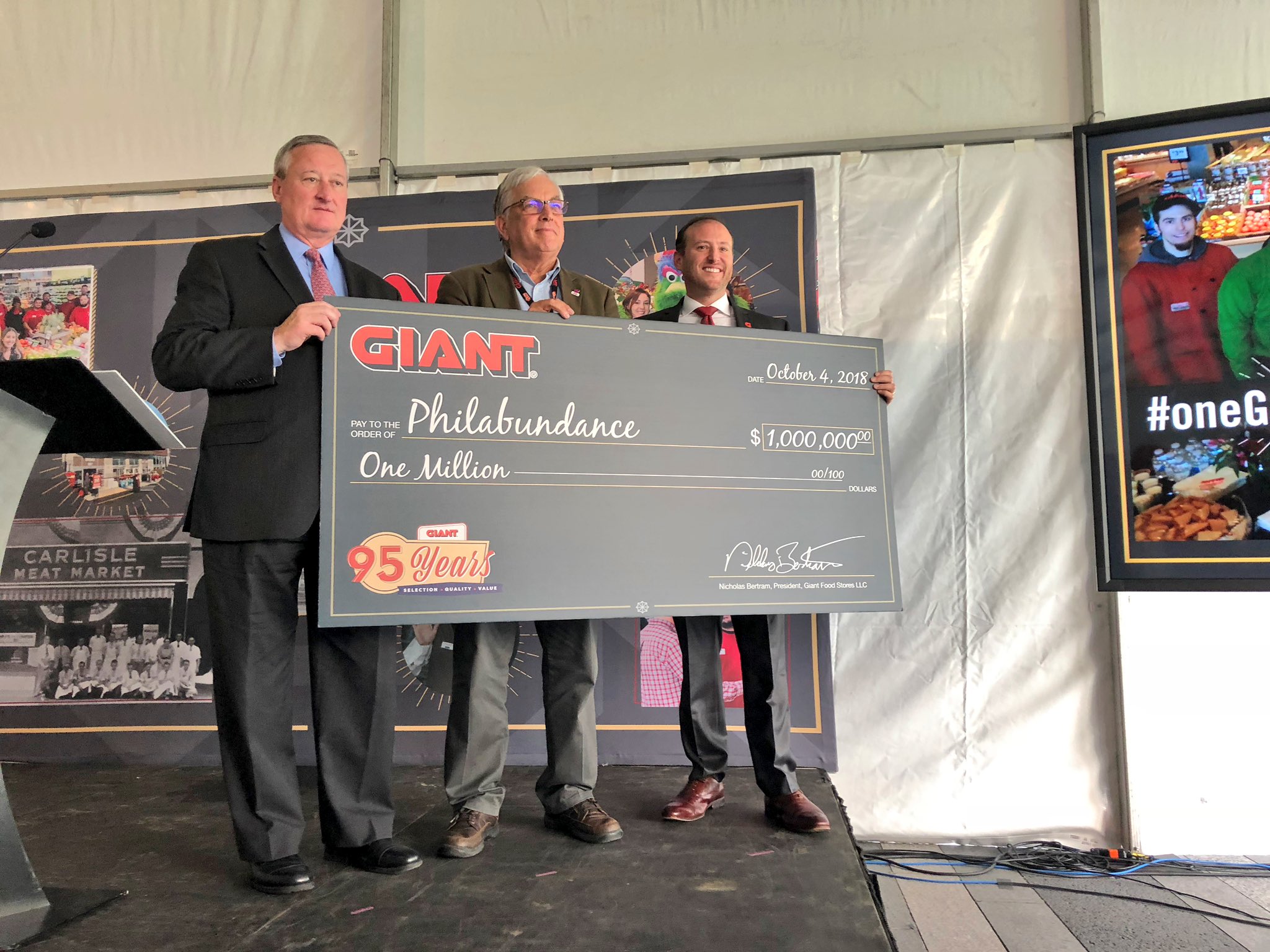 Giant food stores celebrated its 95th anniversary by announcing a $1 million donation to Philabundance. This is the one of the largest donation ever made to the hunger relief organization. Giant has allotted the funds to support kids programming, as well as Philabundance Community Kitchen.
2. Camp Out for Hunger
93.3 WMMR's Preston and Steve's Camp Out for Hunger is less than a month away! The week-long event is the largest single location food drive in the country. The Preston and Steve morning show team had President of Acme Markets Jim Croce in studio discussing ACME's role in the massive event and its impact in the fight against hunger.
Subaru of America also aired ads all month long on WMMR, encouraging people to join the Business Challenge. For more infomation on Camp Out for Hunger or to participate in the Business Challenge visit WMMR.com.
3. 'Tsunami' of free food for the hungry is coming. Will it be too much to handle?
The U.S. Department of Agriculture (USDA) will be dispersing a significant amount of dairy, meat and produce to food banks across the country through The Emergency Food Assistance Program (TEFAP). As a part of the Broke in Philly series, Alfred Lubrano wrote a piece in the Philadelphia Inquirer about how this wave of food could affect area hunger relief organizations including, Philabundance, SHARE and the Chester County Food Bank.
4. Senator Art Haywood Discusses Poverty
The Pennsylvania Cable Network (PCN), aired a segment called Focus on Aging Adults, discussing poverty and food insecurity in Philadelphia. Senator Art Haywood gave a speech and quoted Philabundance Executive Director Glenn Bergman regarding the common misconceptions of what hunger looks like and who Philabundance serves.
Other Press Highlights: